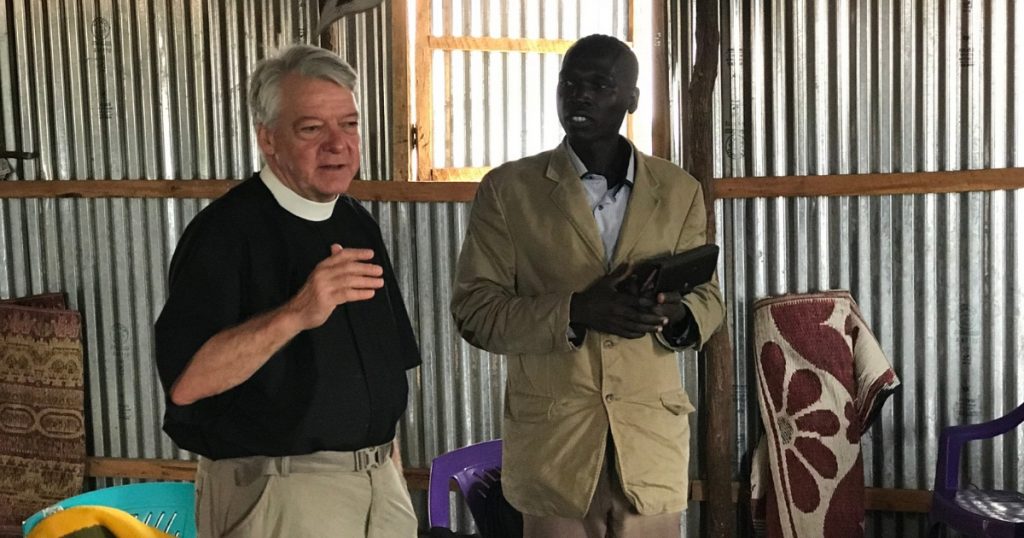 Give us some information about yourself. Who you are? Where are you from?
My name is Okach Omot Opiew. I was born in 1985 in a village called Gog-dipach, in Gog district in the Gambella Region of Ethiopia, at the border of South Sudan. My father who mined gold was killed by unknown people in Dima, Gambella-Ethiopia. I was one year old then, and my uncle who lived in Gog-dipach took us in.
My mother became a farmer after being widowed and tended to her garden so we could get food. I did not go to school early because of the life of an orphan. In 1992, I started classes in a school that was two and a half hours walking distance from my village. From class one to secondary school I faced many challenges, but God helped me in all those vulnerable situations. My mother used to make and sell alcohol and used the income to buy me school stationery and uniforms.
In 2001, I completed grade ten or form two in Pinyudo High School and got an opportunity in 2002 to join Gambella Teachers Training and Health Science College for a one-year teacher's training course. So, in 2003 I started teaching in a primary school, and after two months, my tribe was massacred by Ethiopian soldiers. On December 13, 2003, the Ethiopian military killed my tribemates. Among those killed were 424 intellectual Anyuaks, one pastor and some other evangelists. Within three days, they had killed more than 2000 people not only in Gambella town, but in all six districts of Anyuak in Gambella Region. Two of my uncles were among the casualties. These made me run to South Sudan for my life, separating me from my parents and siblings.
In 2005 I got married to Warkey Alay Agwa, in Alari Refugee Camp in Pochalla County South Sudan. She is from my tribe and had fled to South Sudan during the 2003 genocide. God has blessed us with four children (two boys and two girls). My first son, Per-Jwøk, was born on January 13, 2006, and my second son, Jiem-nyengngi, was born on September 23, 2010. My daughter, Per-bëënynyö, was born on August 7, 2014, and my other daughter, Løngnga, was born on May 19, 2018.
2. Tell us about your work as an evangelist.
From 2000 to 2004, I served in Gog-dipach Mekane Yesus as an evangelist and in the choir. I also served in more than five congregations of Mekane Yesus as a preacher and liturgist.
From October 2005 to March 2013, I served as an evangelist and sometimes a church leader in Alari Lutheran Church in Alari Refugee Camp, South Sudan. As a church leader, I oversaw the activities of the church, trained church members, made relationships with other church bodies, arranged prayer conferences, preached the gospel to the Christians.
In April 2013, I established Gorom Lutheran Church in Gorom Refugee Camp, Juba County in Central Equatorial State in South Sudan, after being relocated there in March from Alari Refugee Camp. I worked there as an evangelist for a year under Rev. Emmanuel Ramadan Bafuka, the deanery of Central and Eastern Equatorial. I organized training for evangelists, youths, women, choirs and church leaders.
Other than working as an evangelist, from June to December 2014, I also translated the Small Catechism into my mother tongue (Anyuak language), which was published by Lutheran Heritage foundation in Africa and USA in August 2015 (LHF.org).
From January 2016 to December 2018, I was a student at Neema Lutheran Theological College (Matongo) and got awarded a diploma in theology on March 30, 2019.
During my study at Matongo Lutheran Theological College, when on holidays, I conducted trainings in catechism, evangelism, preaching, leadership and marriage in more than ten congregations of Lutheran Churches in Dadaab Refugee Camp, Kakuma Refugee Camp, Kalobeyei Refugee Camp in Kenya and in Nakivale Refugee Southwest Uganda.
During my internship from May to December 2017, I proclaimed the Good News to the Pari community from South Sudan in Kalobeyei Refugee Camp. Some of them received Christ as their Savior and more than 80 were baptized. On September 2017, I established a Lutheran church among them in Kalobeyei Refugee Camp.
I also evangelized the Pari community who settled in Kakuma Refugee Camp in July 2018 and planted another church there in August. That congregation is growing very fast. Currently, I was elected as the Leader of Gambella Lutheran Church in Kalobeyei, and I am the General Secretary of Anywaa United Churches in Kalobeyei Refugee Camp. I am still conducting some training in those congregations.
3. What's most rewarding about serving as an evangelist?
Expanding the kingdom of God among the nations through sharing the Gospel of Jesus Christ.
4. What encourages you on difficult days?
It is the Word of God and prayers that always encourage me on those difficult days when I go for mission work.
5. Once you have completed your studies and become a pastor, what will be the focus of your ministry?
My first focus will be to carry out the Great Commission of our Lord Jesus Christ because many people in Africa have not yet heard the Good News of Christ. They need someone to go and preach to them, baptize and feed them with the very body and blood of our Lord Jesus Christ. I am that person, whose heart is burning to go out and preach the Gospel. I need to do mission work, but it needs your financial support and prayers.
My second focus will be to plant new churches among the unbelievers' communities, and my ministry will focus on church planting, mission work, training evangelists, preaching the Gospel and administering the Sacraments. My third focus is to translate the Bible and some Lutheran Church books into Dhaa Anywaa and Anyuak language.
6. Is there anything else you would like the readers to know?
I would like to request the readers to pray for my mission work plans in both Kalobeyei and Kakuma Refugee Camps, for my family and my parents back home in Gambella Ethiopia, and for God's guidance and protection.
Also pray for the new churches I planted in both Kalobeyei and Kakuma Refugee Camps, that God may protect them and keep them in true faith in Jesus Christ, and that they may continue serving and following Christ in all their lives. Pray for my congregation in Kalobeyei Refugee Settlement that God may keep them in true faith in Jesus Christ.
Story written by Shara Osiro – LCMS Missionary in Kenya and Cynthia Awour – Receptionist at the LCMS East Africa Field Office