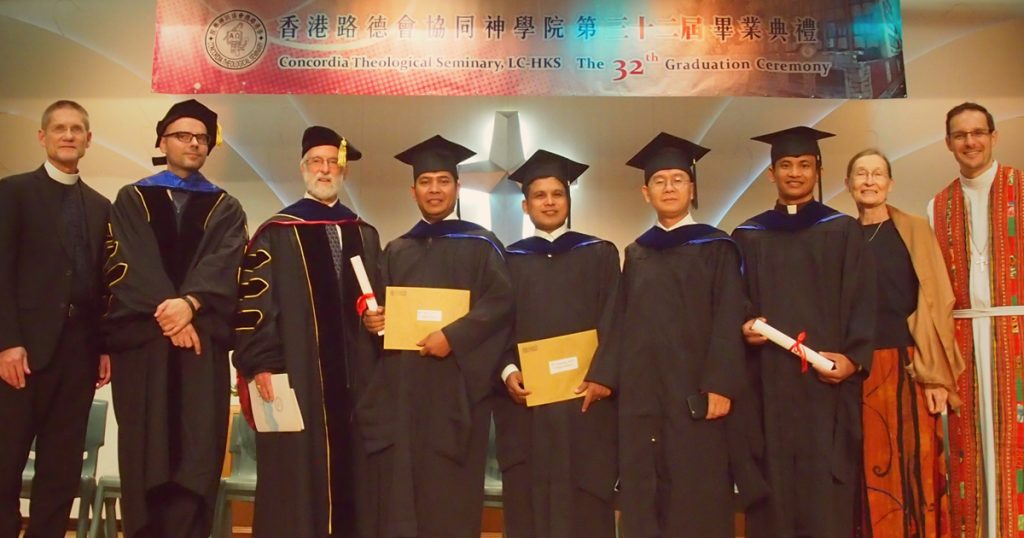 By Dee Dee Wasmund
In late November 2019, four Cambodian men donned black robes and mortarboards for a special graduation ceremony in Hong Kong to mark their completion of the Bachelor of Theology degree from Concordia Theological Seminary, Hong Kong (CTS).
The dedication of these students, as well as the professors who led intensive courses in Cambodia, spanned six challenging years.
The Rev. Songim Un, the Rev. Naro Phin, the Rev. Ravy Van, and Mr. Kimnang Roth are each originally from separate provinces in Cambodia, a country of 16 million people that is about the size of North Dakota.
Joy radiated in the smiles of the students and those who helped make graduation day possible.
CTSHK President Rev. Dr. Stephen Ip and CTSHK Dean of Studies Rev. Dr. Matthew Oseka were key in initiating the degree program.
The Lutheran Church–Missouri Synod (LCMS) assisted by providing funding and theological educators through the partnership between the Cambodian Lutheran Church and the Lutheran Church—Hong Kong Synod.
Meanwhile, the LCMS Office of International Mission (OIM) selected three regional career missionaries – the Rev. Carl Hanson, the Rev. Dr. Steve Oliver, and the Rev. J.P. Cima – to teach designated courses on-site in Cambodia to the four students.
Songim and Ravy live and serve at Christ Lutheran Church in the Cambodian capital city of Phnom Penh as pastor and music leader, respectively. Naro serves as the country director for Lutheran Hour Ministries, with the support of Songim and Ravy on staff. Kimnang resides in the rural countryside while awaiting an opportunity to serve the church.
These men received their initial training as part of the Garuna Foundation's Luther Institute of Southeast Asia (LISA), a 20-course theological training program established to raise up church leaders.
Among the best of the LISA students, with leadership potential and English-language proficiency, these four were selected to participate in the demanding CTSHK Bachelor of Theology program.
The students earned degrees after finishing the required coursework of 19 classes, each consisting of 30 hours of in-class instruction, along with additional fieldwork.
Though all the men have been actively serving in ministry as pastors or in auxiliary organizations connected with the Lutheran Church, their degrees significantly enhance their biblical knowledge and pastoral skills, making them the best-trained national Lutherans in Cambodia.
"These men represent the bright future of the Cambodian Lutheran Church," said Cima, who serves the OIM with his family in Phnom Penh.
Songim, Naro, Ravy and Kimnang hope to continue their studies and one day pursue a master's degree in theology.
Join the LCMS in prayer to thank God for the faithfulness of these students and their wives and children. May the Lord lead others to participate in the CTS Bachelor of Theology program.
---
Dee Dee Wasmund is an LCMS missionary to South Korea, where she serves alongside her husband, LCMS Missionary Matt Wasmund, the Strategic Volunteer Coordinator for East Asia for The Lutheran Church—Missouri Synod.