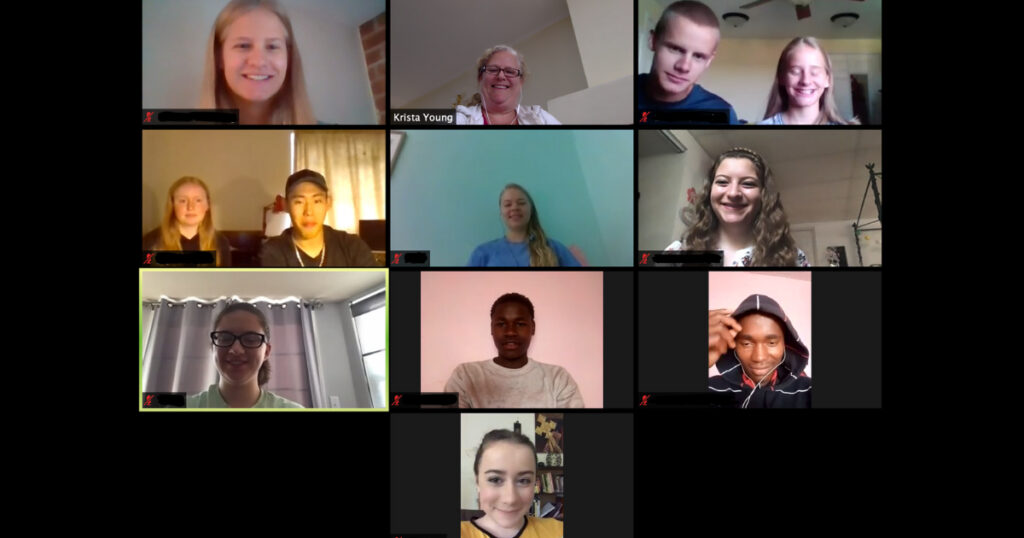 –by DCE Krista Young
The youth on the East Africa mission field have begun a weekly bible study online. It started in March due to the cancellation of the East Africa field annual retreat because of Covid-19.  These missionary families went through orientation at the same time and have developed deep bonds of friendship. So, missing the yearly retreat left them feeling isolated and unconnected. As a Director of Christian Education, I have always enjoyed teaching children and youth about God's word and His love, so I was thrilled when these young adults were interested.
We started with just a four-week lesson, but have continued throughout the months. Our missionary youth have invited friends and neighbors, so we have a diverse and growing group. One of the highlights is after bible study when they chat and catch up on life in their various countries of service.  It has been such a blessing to see these young people connecting across borders and oceans.    
The children and parents share on the impact of the bible study:
"My kids look forward to it every week." — Jonathan Clausing 
"I enjoy spending time with Miss Krista and our missionary friends." — Eunice 
"This Bible study is a fun way for kids of all ages to come and learn more about our faith." — Noah 
"What I like about this Bible study is getting to know new people. I enjoy seeing friends that I do not see a lot and be able to talk with them and the new people I have met." — Julianna 
"I am so grateful that Krista has put this Bible study together for our youth. It has given them some much needed time with other youth. It is such a blessing to study God's Word together in a time when so many events and plans have been cancelled, and we are at home so much." — Stefanie Rabe
"I was invited to the Youth Bible Study by some friends of mine. I was little nervous at first to join, but was quickly made comfortable with the rest of the members. Mrs. Young is very kind and informative. Studying Jonah brought new insight into the old story. I am looking forward to our study of other world views and religions to confirm our beliefs as Lutherans. It's so lovely to be included in a worldwide Bible Study with some old friends and hopefully some new ones as well! — Olivia 
Krista Young serves as the LCMS area volunteer coordinator for Eastern and Southern Africa, Krista works closely with other LCMS missionaries and ministry teams to develop and strengthen relationships with local church partners.