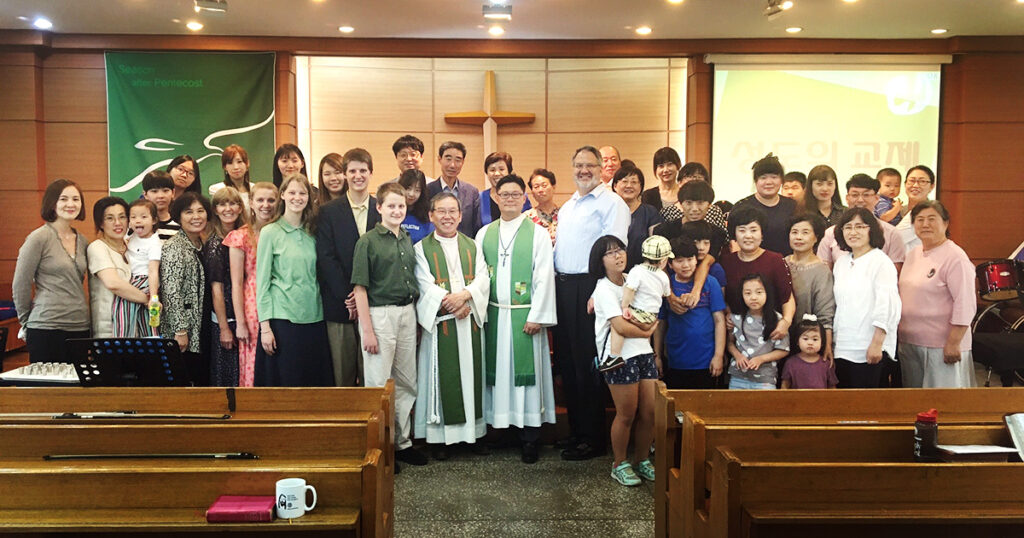 The Rev. Dr. John (Hans) Trinklein serves the Office of International Mission (OIM) as a professor at Luther University (LTU) near Seoul, South Korea. Trinklein and his wife and four children arrived on the mission field in the fall of 2016.
The unexpected
But the mission field wasn't quite as the family had imagined. Instead of an idealized grass hut in the rural countryside, the family lives in a high-rise apartment building in what is considered a "small" suburb of Seoul: Yongin — with over one million residents.
Everyday life is completely contemporary, but the culture of Korea stretches back nearly 5,000 years. "The ancient and the modern are actually coexisting, side by side. Korea catapulted from impoverished, war-ravaged want to dynamic, first-world prosperity in less than 70 years," explains Trinklein.
The Trinkleins find the Korean people warm-hearted, hard-working and generous. Many Koreans revere the United States and the part it played in preserving and defending their country during the Korean War in the early 1950s. Trinklein shares, "Elderly people who lived through the Korean conflict have approached me with tears in their eyes, to shake my hand and express their appreciation to me and my home country — even though I never served in the armed forces!"
Uniquely prepared
Trinklein never planned to serve abroad. Throughout his adult life he worked as a certified public accountant with multinational firms, taught as a professor at several universities and a seminary, and served as a pastor for a total of over 20 years. He also lived in both large metropolitan cities in the U.S. and in small midwestern towns. These experiences helped ready him for the mission field.
"Living in New York and Los Angeles prepared me for the frenetic pace of modern Korea, while my time in rural America helped me to understand the Asian mindset of respect and honor for ancestors and friendships. Having worked in the business world lets me see the global perspective of many people I meet here. But having learned how to connect with students through the years is the most important factor for me now," says Trinklein.
These student connections serve him well as a professor at LTU. With classes ranging from freshman level English as a Foreign Language to graduate level theology, Trinklein is able to offer a very personal learning experience to his cohort of about 70 students. Most of LTU's students are undergraduates in one of the school's four degree programs. A handful are directly pursuing pastoral ministry in the school of theology. Trinklein is directly impacting the good work of the church's mission through solid theological education.
Students coming to Christ
Around 25 percent of Koreans profess Christ as their Savior. But Trinklein finds that many students at LTU are exposed to the Gospel of Jesus Christ for the very first time. As a result, multiple students have been brought to faith through the Holy Spirit and have requested Baptism over the course of the semester.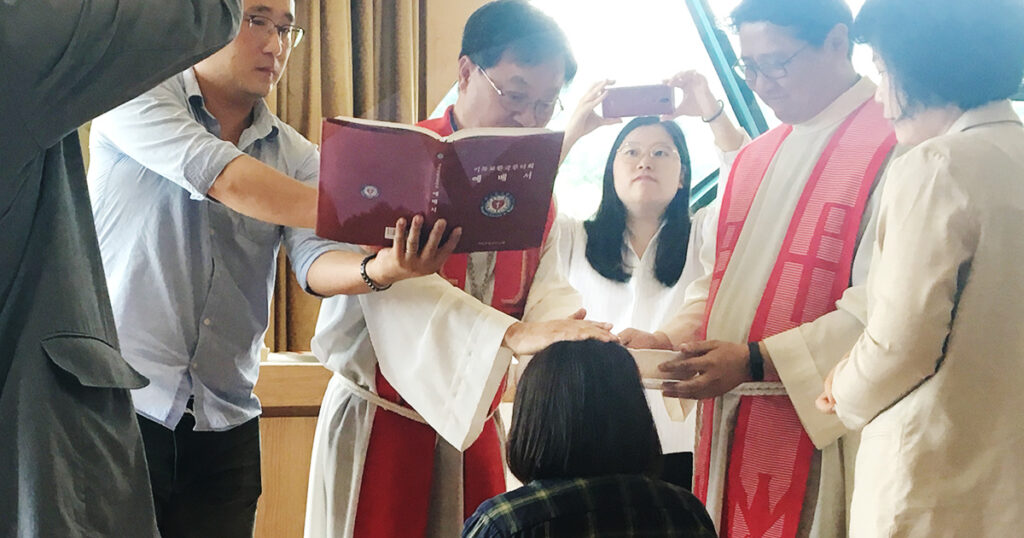 But since the students do not come from Christian families or backgrounds, they don't have a church home of their own. Frequently they are baptized in the chapel at LTU. "Every time I see these Baptisms, I am powerfully moved," says Trinklein. The students are then connected to churches near their homes. Yet they know a family of faith is also available to them at LTU.
Special prayer requests
Trinklein requests that we join him in praying that COVID-19-related travel problems will be resolved quickly. Please pray that professors would be bold in sharing the truth of the Gospel of Jesus Christ in their classes. And also pray that the Lutheran Church in Korea (LCK) will be a light to the nation and that His Kingdom will grow and be filled with vibrant believers!
View the Trinklein family prayer card to get connected and support this family's ministry in South Korea.