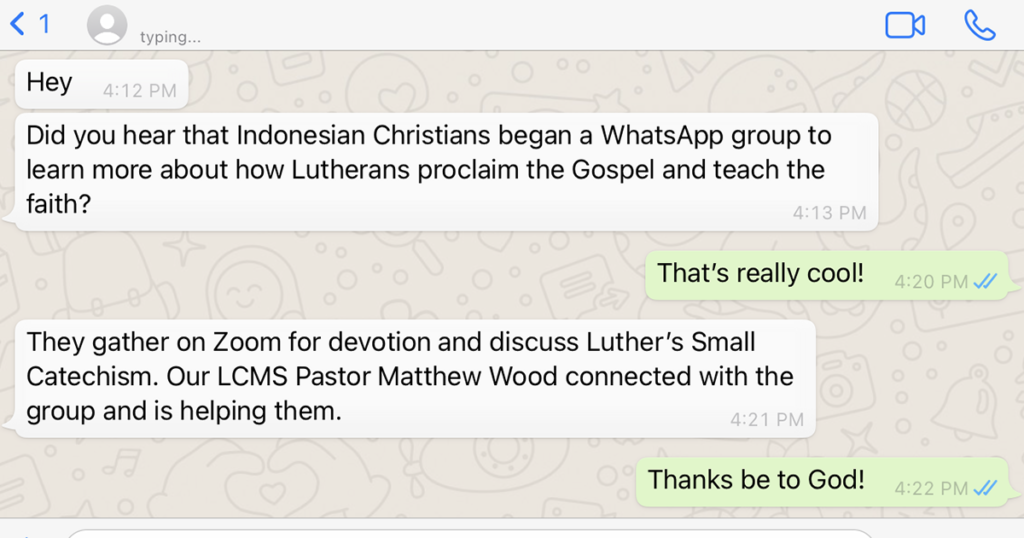 Internet-based applications like Facebook, WhatsApp and Zoom connect millions of people around the globe each day. Through this modern technology, the timeless truths of the Gospel and Lutheran theology are being shared on the mission field in Indonesia.
In July, several laypeople in that country began a WhatsApp group to learn more about how Lutherans proclaim the Gospel and teach the faith. They invited pastors, evangelists, seminary students and other laypeople from different parts of the archipelago nation to join them in their discussions. This is the fruit of the ongoing work of The Lutheran Church—Missouri Synod (LCMS) in Indonesia. The Rev. Matthew Wood and his family serve with the LCMS Office of International Mission (OIM) in the predominantly Muslim country, and Wood was invited to participate in these WhatsApp discussions.
Each day around 50 messages are exchanged, covering topics from tithing to demon possession to infant Baptism to the Lord's Supper. The group is anxious for resources in the Indonesian language to share with others, which is both a challenge and an opportunity.
On Saturday evenings the group gathers on Zoom for devotion and to discuss Luther's Small Catechism. An Indonesian pastor leads the devotion and shares a short sermon, then another national pastor leads a discussion and answers participant questions.
"Interacting with this online community has been a blessed boost in morale during a difficult year. The Lord is working through us in Indonesia, where there is a tremendous need and an abundance of work still to do. Yet even now we have opportunity to accomplish it," shared Wood.
We praise God for this unique opening to encourage these Christians who are seeking biblical truths and Lutheran resources to proclaim the Gospel to their families, friends and communities. View the Wood family prayer card to learn more about their service and to get involved in this active ministry.