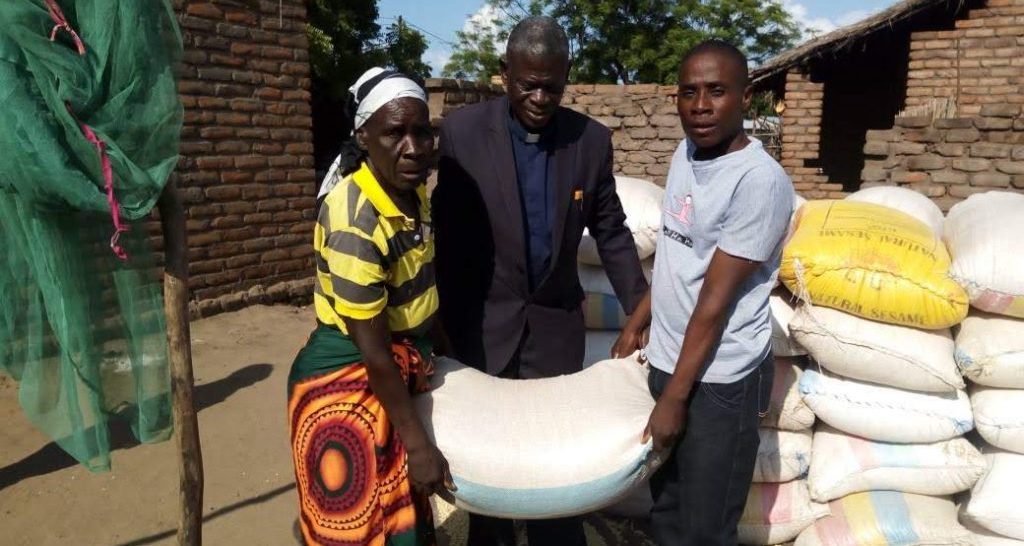 Across Malawi in 2018 the growing season began well as early rains started. As the crops, particularly maize, grew to knee height, an infestation of the fall army worm and stalk borers affected the crops across the country with varying degrees of severity. In addition, unfavorable weather conditions with extended dry spells resulted in poor harvests in many parts of Malawi. The districts where many of the congregations of the Confessional Lutheran Church – Malawi Synod (CLCMS) are located suffered immensely.
Many Malawians face starvation. According to the government, over 3.3 million people are struggling to get food. This hunger time has resulted in a decline of church offerings which is affecting the work of pastors throughout the CLCMS. Rev. Davis Wowa, President of the CLCMS, visited some of the congregations in October and November and found that food was very scarce. Husbands would search for food daily only to return home with a mere one kilogram of flour for a family of seven. During his visit, Wowa slept without having anything to eat.
The CLCMS has nine established congregations, seven exploratory locations and approximately 2050 members. This relief grant will help to provide 50 kilogram bags of maize that will be distributed to 950 members. Rather than spending many hours searching for food, the maize will enable them to work in their gardens to prepare a harvest in 2019.
In January of 2019 the funds were received by the CLCMS enabling them to purchase 950 – 50 kilograms bags of maize. Wowa, his fellow pastors and executive members of the church distributed the maize throughout the nine congregations. Wowa said, "doing it this way will make it open so that all is carried in transparent manner and every one would see that things are done to the glory of God so as to avoid unnecessary arguments." The church members that received maize expressed their joy through song and dance.
With this year's rainfall many gardens are having promising starts. Rain has reduced the number of stalk borers. Congregation members have used the lessons from our agricultural consultancy team (Delano and Linda Meyer and Jacque Breman) who in previous years taught on the use of manure and organic fertilizers, among many other topics. We pray these adjustments in farming techniques lead to a productive harvest. According to Wowa, "We live by their lessons. We are thankful for the agricultural missionaries and the LCMS East Africa Field Office for sending them to Malawi."